Our Team

We are committed to maintaining the highest standards of integrity and professionalism in our relationship with you, our client.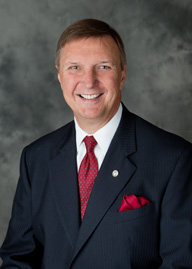 David Oakes, CIMA®
Financial Advisor, Oakes Wealth Management
David is the financial advisor and founder of Oakes Wealth Management, which is affiliated with Prospera Financial Services, a five-time winner of Investment Advisor Magazine's Broker-Dealer of the Year Award.
David obtained his bachelor's degree in theology from Ozark Christian College, and after serving in several roles within ministry, he realized his calling to support the lives of others as a financial advisor.
Beginning his finance career at Morgan Stanley in 1986, David obtained his designation as a Certified Investment Management Analyst®, conferred by the Investments and Wealth Institute. As a CIMA®, he is held to the CIMA Code of Professional Responsibility. Now, with over 30 years of experience in the financial industry, he provides trusted advice to valued individuals, families, businesses and business professionals. Serving as a community volunteer and member of the Investment and Wealth Institute since 1993, David has put great effort into building a business led by his strong ethics and steadfast principles.
When not at the office, he enjoys spending time with his family and hunting. David hunts quail, dove, pheasant, turkey and big game in Alaska, Canada, Australia, New Zealand, and the continental U.S. He volunteers for the Dallas Safari Club and has served on its board of directors since 2004.
David and his wife, Susan, have 3 adult children, 1 grandson and 1 grandaughter.

Jaci Spann
Team Lead, Prospera Financial Services
Jaci has been in the financial services industry for over 20 years. Her background as a sales assistant offers her a great perspective to her role in operations. Jaci's passion is people and building trusting relationships that will last a lifetime. Jaci holds the Series 99.

Ed Kern
SVP of Accounting, Prospera Financial Services
Ed's primary responsibilities include overseeing the day to day financial operations of the firm, managing financial reporting and developing efficiencies in the firm's financial systems.

Marco Galvan
Director of Technology, Prospera Financial Services
Marco serves as the Manager of Information Technology for Prospera Financial Services, offering critical support services and overseeing the firm's technology systems.

Tarah M. Williams
Chief Operating Officer, Prospera Financial Services
Tarah has served on many conference panels and conducted numerous seminars in her fields of expertise, which include recruiting, client experience, risk management, and marketing for the broker-dealer marketplace. Being an avid writer, she has also published numerous white papers and articles on industry-specific topics.

Robert Coulter
Chief Compliance Officer, Prospera Financial Services
Robert has been in the industry for 20 years, most recently with Cain Watters as CCO. He has also served in various compliance positions at national wealth management firms and FINRA. Robert brings a strong knowledge of the rules, paired with a positive, advisor-focused attitude with him to Prospera. He is a graduate of UTSA and holds his Series 7, 24, 50, 53, 66, and 79.